Quepos at a Glance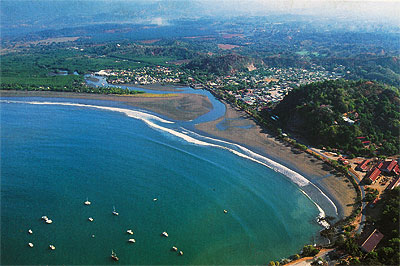 Puerto Quepos drapes itself across a tropical inlet surrounded by primary rainforest. The village center is a delightful six-block square of restaurants, bars, hotels, bakeries, art galleries and gift shops, all fronted by the main beach and sportfishing fleet. Quepos is growing quickly yet maintains many of its sleepy and humble beginnings.

View Interactive Panorama (Flash and Javascript required).
Quepeños are great celebrators of life and seem to make dancing in the streets a local pastime. The high season runs through the drier months of December to April and explodes during the Festival del Mar, a month long party held each February that features concerts, sporting events, parades and a street carnival with dancers from across the country. Quepos fills to the brim with families, surfers, backpackers, ecotourists, blissed-out scientists and gay jet-setters, all as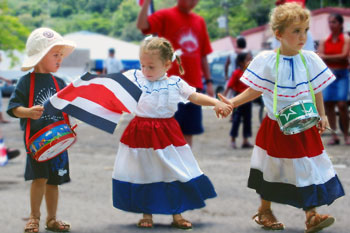 colorful and intriguing as the flora and fauna surrounding the village. The ever-friendly locals take it all in stride, going out of their way to make sure everyone has a good time.
Tourism is now the area's leading employer as Quepos evolves from its banana growing roots into a premier holiday destination. After the demise of the Quepoa Indians in the late 1800's, vast banana plantations were developed throughout the region. Bananas were shipped to world markets across the docks that now service the sportfishing fleet. In the 1980's bananas lost out to heartier African palms and their high quality palm oil. As Quepos diminished in importance as a banana port, it renewed itself as an ecotourism and sportfishing destination. World travelers are discovering the area, with many visitors purchasing homes and returning each year to enjoy the relaxing village lifestyle and natural beauty of surrounding Manuel Antonio.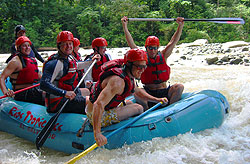 Whitewater: Popular runs include the Naranjo, Savegre, and Parrita Rivers. These rivers are rated from easy, family-oriented Class II runs on the Parrita to a gnarly Class V adrenaline pumper on the Upper Naranjo. Rafting is enjoyed throughout the year with the high season running late August through early November.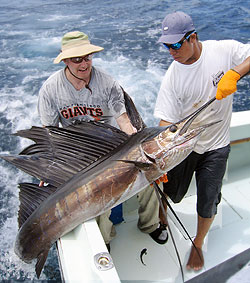 Sportfishing: The modern Quepos sportfishing fleet is well-prepared to fulfill your dream of catching a big one. Area waters are loaded with huge sailfish and billfish, along with tuna, grouper, snapper and more. If a giant marlin is what you're after, you will likely get one here. Fishing is excellent throughout the year and area restaurants will gladly prepare your catch for you.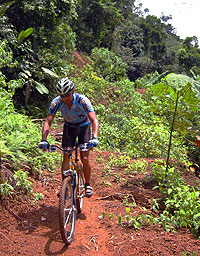 Cycling: The nearby hills and mountains provide opportunities for every level of mountain biking. Cycling here means traversing jungle streams, visiting hidden waterfalls and taking in glorious coastal vistas from the mountains above. Rental bikes are available in town or enjoy having a local cycling expert and naturalist interpret the natural beauty and wildlife encountered on a guided tour.
Surfing: Quepos is centrally located to a number of fine, internationally known breaks including Playa del Rey, Dominical, Hermosa, Jaco and Esterillos. Nice waves often roll in just outside the national park and a couple of excellent breaks are within walking distance of the village. The water ranges from 78-82 degrees Fahrenheit year-round. The biggest waves are found in the area from June through August, though swells are quite consistent from April to November.